Recreation in the Gorham, NH Area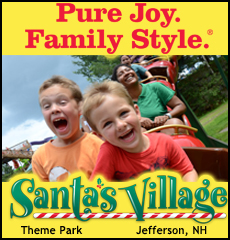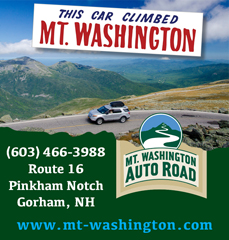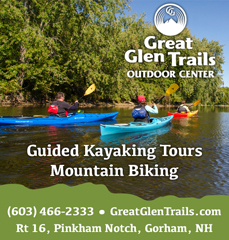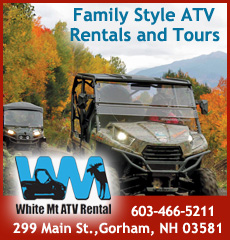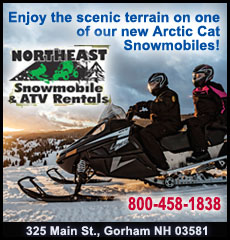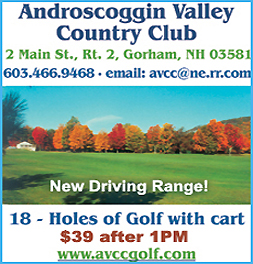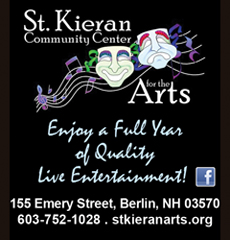 Summer
Summer in Gorham ~
There are scenic roads and trails to hike, road bike, mountain bike and ride ATV's and OHRV's in the Gorham, NH area. We have an 18 hole golf course right in town and also mini-golf. There are outdoor concerts on the town common, flea markets and moose tours. ATV's are allowed on Main Street in Gorham and Berlin seasonally and there are 1,000 miles of Ride the Wilds connecting trails. Cool mountain brooks and rivers invite you to swim, tube, raft, kayak, canoe or fish! There are rolling dogsled rides, adventurous zip-lines and canopy rides to experience! Go to the top of the highest mountain in the northeastern US, Mt. Washington, or just take a drive with your camera and remember to "Brake for Moose!"
Scenic Drives - Gorham, NH
Drive in any direction in any season and you will find awesome views. Wildlife can appear unexpectedly and you may see moose, bear, deer, foxes or even coyotes crossing the roads. There have been some bobcat sightings in recent years.
Mt. Washington Auto Road
Rt. 16, PO Vox 300, Pinkham Notch, Gorham, NH 03581
603-466-2721
mtwashingtonautoroad.com


Hiking, Climbing, & Snowshoeing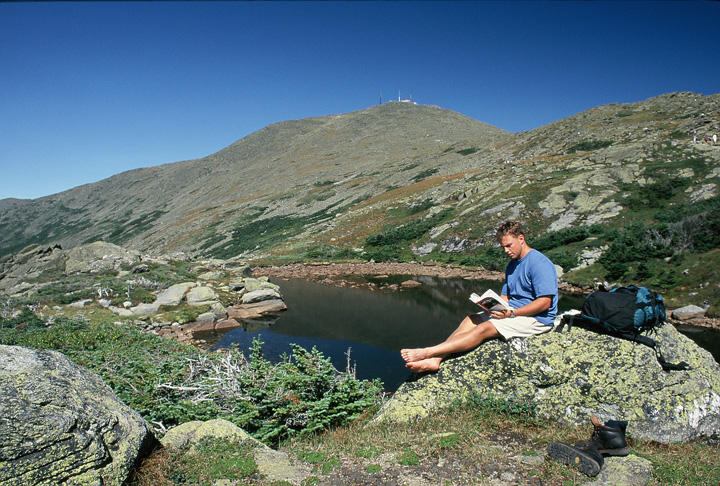 Lake of the Clouds Hut, Mt. Washington, Appalachian Trail by Robert Kozlow
Trail permits available from the USFS, in the Androscoggin Valley Ranger Station, on Route 16, 6 miles south of town. AMC Visitor Center in Pinkham Notch offers guided hikes, special programs and maintains a hut system for above timberline hikers. Visit www.nhtrails.org for trail info.
Appalachian Mountain Club
Rt. 16, Pinkham Notch, Gorham, NH 03581
603-466-2721
amcoutdoors.org
Randolph Mountain Club
randolphmountainclub.org
Mountain Biking, Fat Biking & Cycling
Many xc-ski areas offer mountain biking in the summer and fat biking all year! Endless rural roads and trails challenge the most avid cyclists. Rentals are available. There are also races in the area. Trails at Moose Brook State Park and Rails to Trails are accessed from a parking area just west of Gorham on US Route 2, the Lancaster Road. Visit nhtrails.org for trail information, and Coos Co. Cycling Club on Facebook for events and information. See Great Glen Trails (ad top of page)


Kayaking, Canoeing & Rafting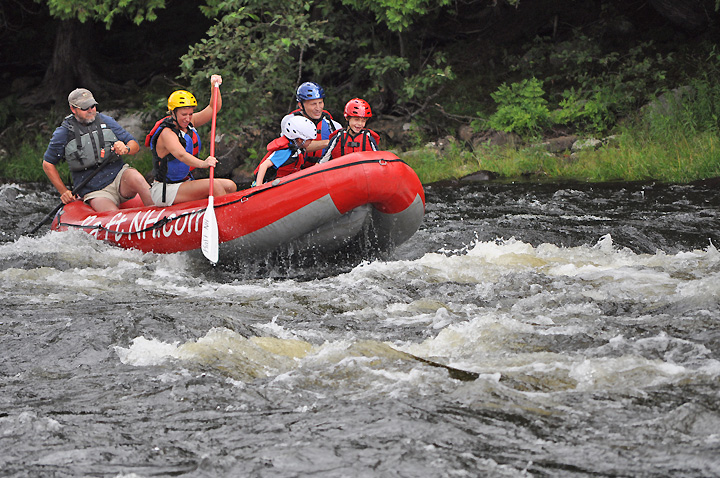 Photo Courtesy of RaftNH.com
The Gorham area is surrounded by an abundant watershed. It offers everything from raging whitewater rivers to clear placid ponds, in typical New England style. There are rentals, lessons and tours available. See
Great Glen Trails
(ad top of page)
Raft NH
196 Main Street, Gorham, NH 03581
603-545-4533
raftnh.com
ATV Trails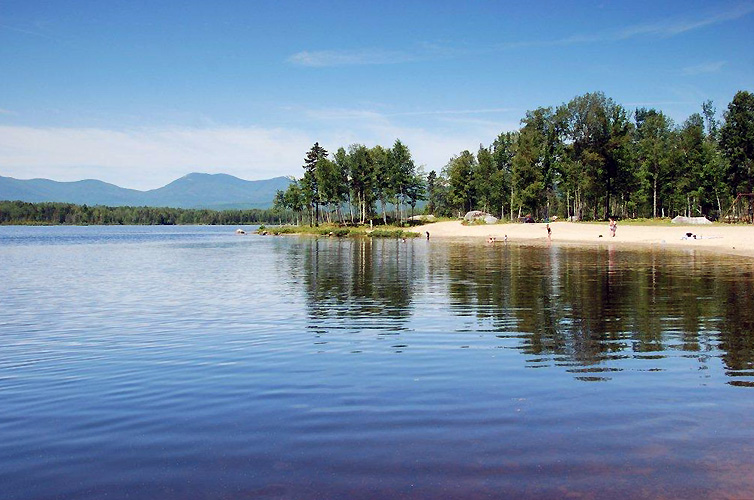 Jericho Lake home of Jericho Mountain ATV Park by Robert Kozlow
ATV Trails connect with Gorham and the city of Berlin, NH, where ATV's are allowed on designated roads. In Gorham, ATV's are allowed on Main Street from Memorial Day in May until the first Monday in November. Jericho Mountain ATV Park is on Route 110 just west of the city of Berlin, where there are miles and miles of scenic trails around Jericho Lake. There is a campground and a warming hut out on the trail with outhouse facilities. Maps, rentals and tours available. Annual Festival
White Mountain ATV Rentals
299 Main Street
Gorham, NH 03581
603-466-5211
whitemtatvrental.com
Northeast ATV Rentals
325 Main Street
Gorham, NH 03581
1-800-458-1838


Swimming and Waterfalls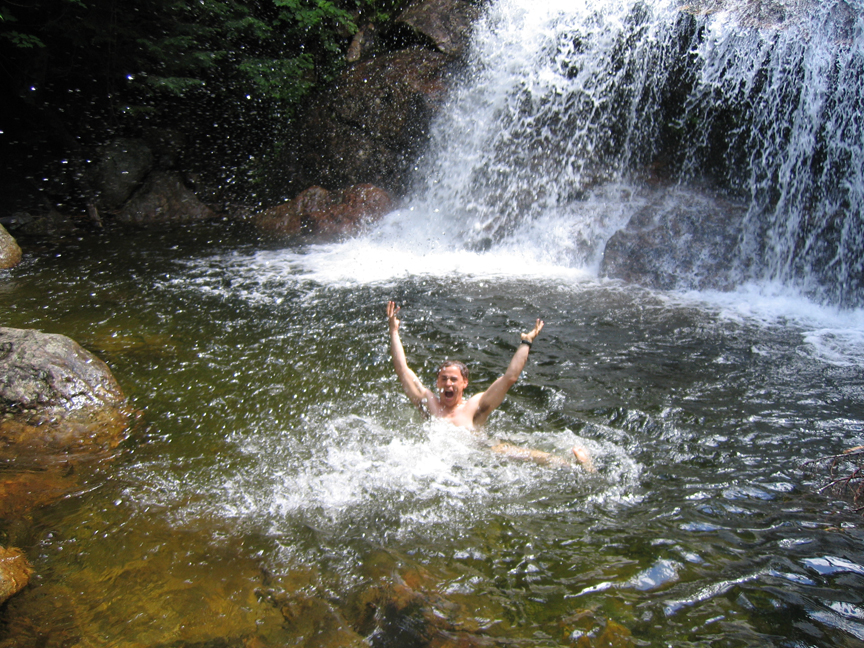 Thompson Falls in Pinkham Notch, photo by Mike Ryan
There are many swimming holes in the Peabody River and in the brooks that cascade down the Northern Presidential Mountains. Waterfalls are just a short hike from the road, including Crystal Cascade, Thompson Falls, and Glen Ellis Falls.
Golf, Mini-Golf & Alpine Disc Golf
Enjoy scenic views while playing 18 holes right off of Main Street in Gorham. Or pick your favorite from over ten golf courses within an hour drive of Gorham. Mini golf and a batting cage are also right on Main Street at Moose Meadow. Learn to play Alpine Disc Golf, take a lift up to the course on the side of Wildcat Mountain.
Gondola, Zip-Line & Canopy Tours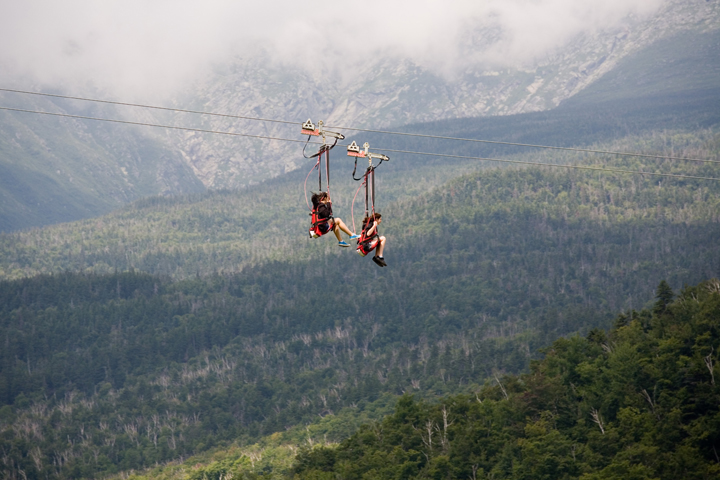 Photo Courtesy of Wildcat Mountain
Ride up the mountain and fly down! The downhill ski areas are offering these popular rides in the summer and fall. Find them at Wildcat Mountain, Sunday River and Bretton Woods, which has quite an extensive "Canopy Tour" that runs all year.
_________________________________
Winter
Winter in Gorham ~
Snow is plentiful into early April and the towns are connected to NHSA snowmobile corridors. Stay here and you are within a half-hour drive of 6 major downhill ski and snowboard areas, 6 very scenic cross-country ski areas, snow-tubing, dog-sled rides, snowshoeing and ice-climbing. Take the snowcat up Mt. Washington. We are a winter wonderland!!
Dogsledding & Rolling DogSled Rides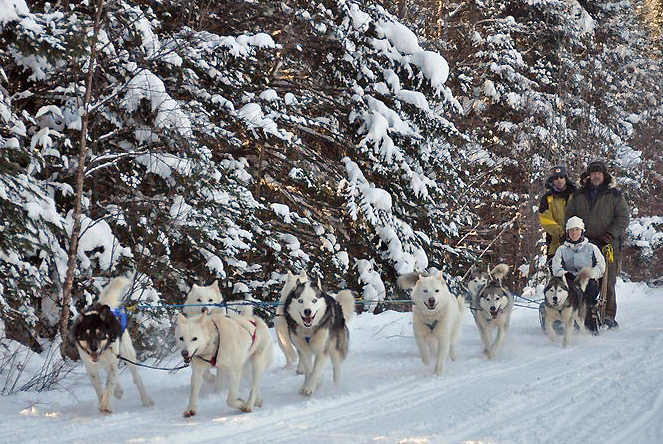 Photo courtesy of DogSledNH.com
Take a ride on a dog-sled and experience the world of winter on a whole new level. Also enjoy the trails and views on a Rolling Dogsled ride in Summer or Fall.
DogSled NH
196 Main Street, Gorham, NH 03581
603-545-4533
dogslednh.com
Snowmobiling
Hundreds of miles of trails wind thru field and forest with access to corridors maintained by NHSA. Accomodations offer snowmobiling at the door. Check out the events calendar for the annual snowmobile Easter Seals Ride-In. Visit nhstateparks.org for statewide trail conditions. Or visit these local club sites: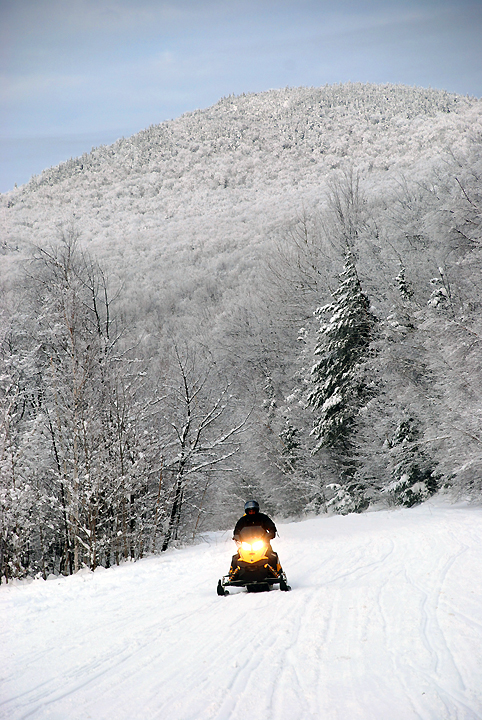 Photo by Robert Kozlow
Northeast Snowmobile Rentals
325 Main Street
Gorham, NH 03581
1-800-458-1838


Downhill Skiing & Snowboarding
Seven spectacular alpine ski areas are within a 30 minute drive of the Gorham area:
Wildcat Mountain, Pinkham Notch
Sunday River, Maine
Attitash Mountain, Bartlett, NH
Black Mountain, Jackson, NH
Bretton Woods Mountain Resort, Bretton Woods, Crawford Notch
Cranmore Mountain, North Conway, NH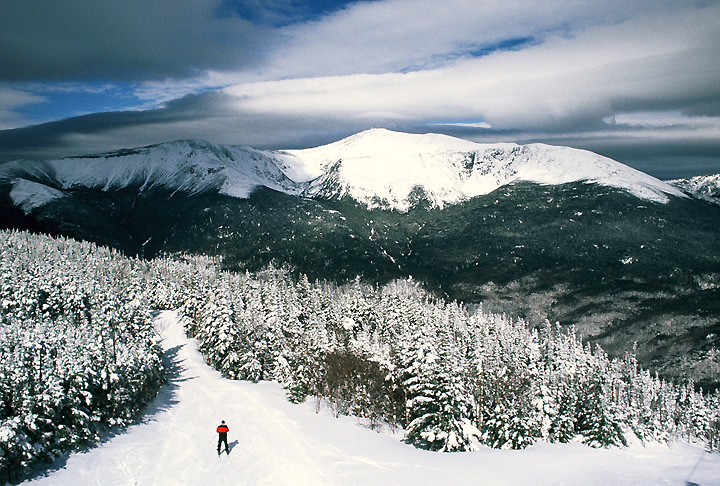 Wildcat Mountain view of Mt. Washington by Robert Kozlow
Extreme Skiing & Snowboarding
Tuckerman Ravine can be accessed by hiking the Shelburne Trail which starts at the AMC Lodge in Pinkham Notch. Every year, many people ski and snowboard in this bowl created by these these unique alpine and sub-alpine eastern slopes on Mt. Washington. It holds now into May and is the home of the Annual Tuckerman Inferno - a 5 stage Pentathalon every April.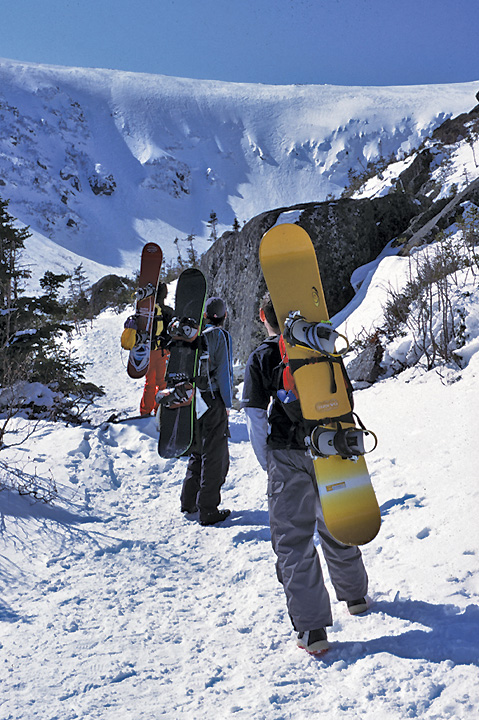 Tuckerman Ravine on Mt. Washington by Robert Kozlow
Friends of Tuckerman
friendsoftuckerman.org
Mt. Washington Avalanche Center
mountwashingtonavalanchecenter.org
Cross-Country Skiing
Six extensive groomed trail systems are within 30 minutes of Gorham, NH. Backcountry trails are endless in the White Mountain National Forest.
Great Glen Trails
Route 16, PO Box 300, Gorham, NH 03581
603-466-2333
greatglentrails.com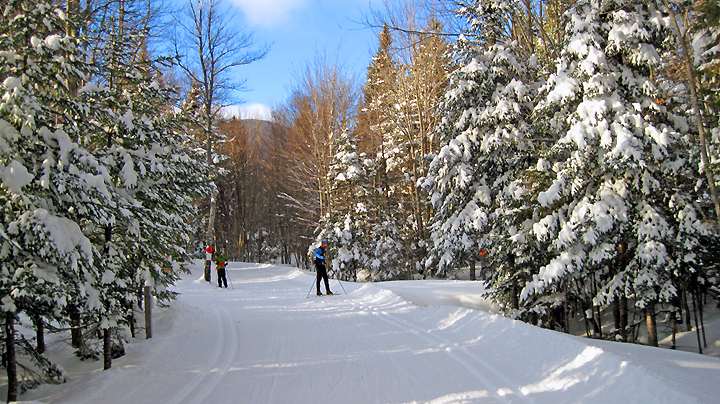 Great Glen Trails photo by Deborah Ryan
Jackson XC
Bretton Woods XC
Mt. Washington Valley Ski Touring
Bear Notch Nordic Ski Area
Carters Ski Touring
Nansen Ski Trails - maintained bythe oldest nordic ski club in the US. skinansen.com